Two weeks ago, the Philharmonic held auditions for open principal trombone, cello, and bass positions. 15 competed for the trombone positions,  8 competed for the cello positions, and 9 competed for the bass positions. Auditions are "blind," meaning that the panel of judges, made up of Maestro Hege and principal string and brass players, can see neither the auditioning musicians nor their resumes. Out of those who auditioned, one principal trombonist, one cellist, and one bassist were taken on as new members of our orchestra!  
We are happy to announce the names of our new musicians:
Felix Regalado, Principal Trombone 
Felix Regalado, Florida native, has been part of a great variety of different ensembles and music groups. Currently residing in Chicago, IL, Mr. Regalado is completing his Masters of Music degree at Northwestern's Bienen School of music and is expected to graduate in 2022. He was also recently appointed as a Regular Member of the Civic Orchestra of Chicago, the Chicago Symphony's training orchestra, in 2021.  
Prior to moving to Chicago, Mr. Regalado lived in San Francisco, CA, where he completed his Undergraduate studies at the San Francisco Conservatory of Music. During his time in San Francisco he had the opportunity to perform with ensembles such as the San Francisco Opera and Opera San Jose. As well as a couple of new music groups named "After Everything" and "Mercury Soul".  
After moving to Chicago, Mr. Regalado has been doing most of his performances in Orchestra Hall with the Civic Orchestra of Chicago. Felix has had the incredible opportunity of performing with the Chicago Symphony Orchestra as a section trombonist, as well as partaking in their yearly CSO Brass Concert in December 2021. He has also had the opportunity to have performed with the Tulsa Symphony as their Guest Principal Trombonist.  
In his free time, you can find Felix cooking a new recipe at home, finding new restaurants throughout the city, enjoying a beverage at his local brewery, or hanging out with family and friends.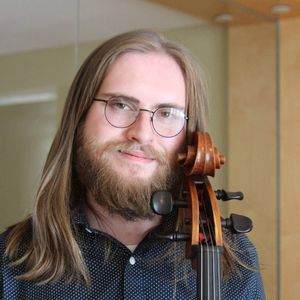 Gregory Stebbins, Cello
Cellist Gregory Stebbins has always had a passion for orchestral playing. In his teenage years, he participated in youth orchestras that enriched his life. As a member of the Interschool Orchestras of New York Symphony, he had the opportunity to tour Scotland and participate in the Aberdeen International Youth Music Festival.  
Gregory, a Long Island native, attended the State University of New York at Fredonia for his undergraduate degree in Music Performance. Under the tutelage of Dr. Natasha Farny, Gregory's love for collaborative music making only grew.  
In 2021, Gregory received his Master's in Music Performance from the University of Oregon, studying under Mr. Steven Pologe, the former principal of the Eugene Symphony, Honolulu Symphony, and many others. It was here Gregory's future as an orchestral musician was truly solidified.  
In addition to being an accomplished orchestral player, Gregory also enjoys playing chamber music in all of it's forms. Many of his summers have been spent playing quartets, trios, and quintets at such places as the Meadowmount School of Music, the Brancaleoni International Festival, and the Green Mountain Chamber Music Festival.  
In his free time, Gregory is an avid Fantasy reader, and also enjoys spending time by the water whenever he can.
John Krause, Bass
John Krause began playing double bass at the age of ten as a public school student in Chittenango, New York. As a winner of the Syracuse Symphony Youth Orchestra Concerto Competition in high school, he went on to attend The Boston Conservatory where he received a Bachelor's degree in Double Bass Performance in 2016 while studying with Lawrence Wolfe and Thomas Van Dyck. During his summers at school he attended Eastern Music Festival and Brevard Music Center. In 2018, he graduated as a Patti Johnson Wilson String Orchestral Fellow at Oklahoma State University under the tutelage of George Speed. 
In Oklahoma, he performed with the Oklahoma City Philharmonic and the Tulsa Symphony Orchestra, and was the Associate Principal Bass of the Tulsa Opera Orchestra. Since moving back to the east coast upon graduating, he has become the Assistant Principal Bass of Symphoria and the Associate Principal Bass of the Lynchburg Symphony. He has played with the North Carolina Symphony, the Charleston Symphony and the Richmond Symphony, among others. He teaches Double Bass Performance at Binghamton University, and is passionate about passing on the great tradition that is classical music performance. 
John is excited to be playing very close to where he grew up in his home state of New York. He enjoys reading, sports, cooking, listening to old Herbert Von Karajan recordings, and spending time outdoors with his wife Connie.