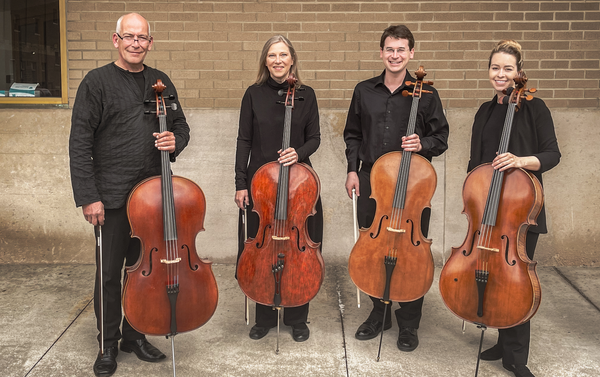 Program 
Game of Thrones Medley — Ramin Djawadi (b.1974); arr. Steven Sherrill 
Succession Medley— Nicholas Britell (b.1980); arr. Steven Sherrill 
400: An Afrikan Epic (2019) — Mark Lomax II 
    Four Women for Cello Quartet: "Ma'afa: Portrait of Ida B. Wells" 
Theme and Variations for Cello Quartet, Op. 28 — Julius Klengel (1859-1933) 
Serenade for Cello Quartet, Op. 119, No. 2 — Georg Goltermann (1824-1898) 
English Suite #3 BWV 808 — J.S. Bach (1685-1750); arr. Stephen Watkins 
Power of the Dog Medley — Jonny Greenwood (b.1971); arr. Steven Sherrill 
The Joke Medley — Brandi Carlile (b.1981); arr. Steven Sherrill 
Spanish Dances, Opus 12 — Moritz Moszkowski (1854-1925); arr. Joanne Martin 
     No. 2, Moderato 
Libertango — Astor Piazzolla (1933-1990)
Ruth Berry  
Ruth recently moved back to her hometown of Hamilton, NY after living in Augusta, GA for many years (where she worked as principal cello of the Augusta Symphony and Opera, and served as an artist in residence with the Magellan String Quartet at Georgia Southern University). She is a founding member of several chamber ensembles, including the Castalia and Fenimore String Quartets, and the Parlor City Celli.   
Since 1986, Ruth performs during the summers with the Glimmerglass Festival Orchestra where she specializes in solo continuo work for 17th and 18th century repertoire.  During the "off summer" months, Ruth travels regularly to perform with arts organizations throughout the North and Southeastern USA--including the Binghamton Philharmonic and the South Carolina Philharmonic. She teaches cello at Colgate University, Hartwick College, and SUNY Oneonta. 
Ruth went to college at Boston University (where she studied cello with Leslie Parnas and received the Edwin E. Stein Award for Excellence in the Arts). Her graduate degree and studies at Cornell University were in musicology, analytical techniques, performance practice and labor relations.   Ruth was mentored by string quartet members in residence at Colgate University during her youth (The Amici/Madison and Manhattan Quartet), especially the late Binghamton resident Stephen Stalker with whom she studied.    
Ruth is the proud owner of the historic Kitt Shipman Memorial Chapel in Springfield Center NY; she stays there whenever she can to practice, work on creative projects, and to go on hikes in the beautiful hills of Otsego County, NY 
Laura Cricco-Lizza  
Laura lives in New York City and teaches cello and orchestra at Trinity School on the Upper West Side. She is currently a section cellist with the Binghamton Philharmonic Orchestra and is a founding member of the Parlor City Celli. 
A native Midwesterner, Laura began playing cello at the age of 10, and by the time she was in high school, she was already teaching private and group cello lessons. Laura has studied with cellists Hans Jørgen Jensen, Wei Yu, Rupei Yeh, Jeffrey Zeigler, and Jeffrey Solow. She has toured internationally throughout South America, Europe, and the United States. In New York, she has performed at Carnegie Weill Recital Hall, Carnegie Stern Auditorium, David Geffen Hall, Riverside Church, St. John the Divine, and Alice Tully Hall. 
In 2013, Laura completed a Bachelor of Arts with a major in Music and a minor in Russian at Barnard College, Columbia University, where she was awarded the Dolan Prize Scholarship for excellence in music performance and the Star Award for outstanding leadership. As a result of winning the Columbia University chamber competition, she was invited to perform at Carnegie's Weill Recital Hall. Laura received her Master of Music in Cello Performance from Mannes School of Music in 2016. After a year with Carnegie Hall's Artist Training Program, Laura completed her Suzuki cello teacher training from the School for Strings and the Chicago Suzuki Institute of Music. 
Laura loves going on outdoor adventures, learning new languages, and playing strategic board games. 
Michael Newman  
Michael serves as the assistant principal cellist in the Binghamton Philharmonic Orchestra and is a founding member of the Parlor City Celli.  He is from Southampton, PA, and travels to play with several community orchestras, including the Warminster Symphony Orchestra, Southeastern Pennsylvania Symphony Orchestra, Capital Philharmonic of New Jersey and Bryn Athyn Orchestra.  
An avid chamber musician, Michael was a member of the Vernon String Quartet, which was selected as Peabody's Honors Ensemble for the 2017-2018 season. They performed at the Society of Four Arts in Florida and had the pleasure of collaborating with Michael Kannen, former cellist of the Brentano String Quartet, in Baltimore. In the summer of 2018, Michael attended the Manchester Music Festival as a cello fellowship recipient in the Young Artists Program. Additionally, Michael was a member of the Peabody String Sinfonia, a conductor-less string ensemble that performs exclusively at community venues with a mission to bring the beauty of music to people in challenging situations. 
Michael also enjoys performing and collaborating as a recording artist. As a soloist, he premiered two separate works for cello, written by composer Zach Gulaboff Davis. 
Michael earned his master's degree in cello performance from the Peabody Institute at Johns Hopkins University. He was a recipient of the Marc von May Cello Scholarship and studied with distinguished cellist, Alan Stepansky. Michael received his bachelor's degree from the Boyer College of Music at Temple University, under the tutelage of Udi Bar-David, a cellist in the Philadelphia Orchestra. 
An avid car enthusiast, Michael has a collection of unique and rare Mustangs which he enjoys driving and taking to car shows. 
Hakan Tayga  
Hakan is Principal Cellist of Binghamton Philharmonic and founding member of the Parlor City Celli. A native of Binghamton, Hakan has wonderful opportunities to collaborate with artists locally and in the Central NY region and in NYC including- Ensemble Concord at the Kilmer Mansion, Pej Reitz, Contemporary Music at Cornell, SUNY Binghamton Faculty novo4tet, DeVere String Quartet, Cypress Willow Quartet, Bach Works NYC, 92nd Street Y Chamber Music Program. Hakan has performed with many regional arts organizations, including the Tri-Cities Opera, Cayuga Chamber Orchestra, Catskill Symphony, Syracuse Symphony, Orchestra of the Southern Finger Lakes.   
Hakan's creative collaborations in the role of resident artist, curator and cellist have helped initiate, along with the Orchestra of the Southern Finger Lakes, the Musicians Choice series at the Arnot and Rockwell Museums. His imaginative partnerships have also found nourishment at the SPOOL MFG (Spool Contemporary Art Space), the not-for-profit organization founded by Binghamton University Professor Don DeMauro. 
Hakan attended Ithaca College, SUNY Purchase, and SUNY Binghamton. He has studied cello with many great musicians, including Peter Wiley, Daniel Phillips, Marion Feldman, Stephen Stalker, Einar J. Holm and Fritz Wallenberg. 
Hakan is also a gifted gardener and chef. 
Upcoming Performances For Parlor City Celli
Preview Performance
Friday, June 10 at 7:00PM 
St. Paul's Episcopal Church, 276 Church Street, Montrose, PA 
Summer Chamber Music Series
Saturday, Jun 11 @ 7:30PM 
St. Patrick's Church, 9 Leroy St, Binghamton, NY
Encore Performance
Sunday, June 12 @ 3:00PM 
Church of the Immaculate Conception, 1180 State Highway 206, Greene, NY