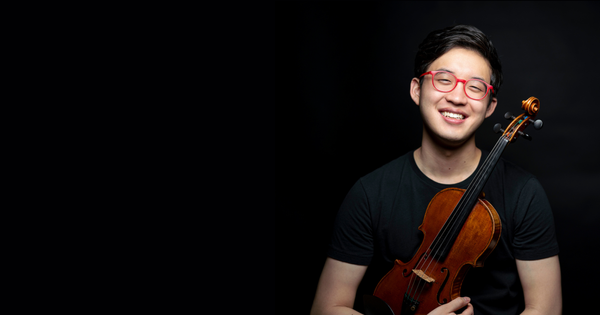 Julian Rhee, Violinist 
Soloist for the Binghamton Philharmonic's Emerge Concert on September 25th, 2021: Violin Concerto, Op. 63, E minor: Felix Mendelssohn
The first prize winner of the 2020 Elmar Oliveira International Violin Competition and most recently named a 2021 Astral National Auditions winner, Julian Rhee is fast gaining recognition as an outstanding musician and performer in the US. 
An avid soloist, Julian made his Milwaukee Symphony Orchestra debut at age 8, and has gone on to perform with such ensembles as the San Diego Symphony and the Symphony Orchestras of Pittsburgh, Eugene (OR), and Madison (WI).  He has performed in an array of prestigious venues, including Ravinia's Bennett Gordon Hall in Chicago; the Heinz Hall in Pittsburgh; Teatro El Circulo in Argentina; The Musikverein in Vienna; and the New World Center in Miami. 
Among his many career highlights, he has appeared at the John F. Kennedy Center as a Presidential Scholar and received his medal at the White House. A top prize winner of the Johansen and Klein International Competitions, Julian has performed alongside internationally renowned ensemble Time for Three on NPR's From The Top , 98.7 WFMT's Introductions , and Wisconsin Public Radio and Television (WPT/WPR). Julian shares his passion for music by serving in the local community as an assisting artist and mentor of the Wisconsin Intergenerational Orchestra. In addition, he regularly speaks and performs at schools and retirement homes in Wisconsin and Illinois. 
Julian studied with Almita and Roland Vamos at the Music Institute of Chicago Academy. He is currently pursuing a Bachelor of Music degree with Miriam Fried at the New England 
Conservatory.