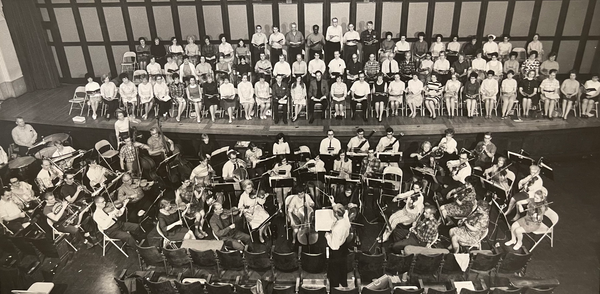 Historic Photo of Fritz Wallenberg conducting Binghamton Symphony and Choral Society
This article appears in the January 2022 edition of Our Town, available at local retailers.
By Dr. Paul Cienniwa, Executive Director, Binghamton Philharmonic 
A project to preserve Binghamton history led to some interesting personal connections for the author. 
In summer 2020, the Binghamton Philharmonic was given twenty years of recordings of performances conducted by Fritz Wallenberg, the founder of the orchestra that became today's Philharmonic. The recordings, made by Marvin Fred Kelley, Jr. of Custom Recording Studio in Binghamton, date from a Christmas concert on December 14, 1958 and carry through 1978. The vast majority of the performances are of Wallenberg's Community Symphony Society and its later incarnation, the Binghamton Symphony and Choral Society. 
After receiving the reels, the Philharmonic embarked on a fundraising campaign to digitize the recordings for open access on YouTube. What I didn't expect was the personal connections that came from the project's supporters. Over the course of a year, I heard from former orchestra members, including violinist Ed Pettengill and clarinetist Vincent Smith, and from 'cellist David Heiss, a former student of Fritz Wallenberg who now plays with the Metropolitan Opera Orchestra. I also took calls from children of parents who had played or sung with the orchestra, and I had the great pleasure of getting to know Fritz and Marianne Wallenberg's children: James and Katherine (Rabinowitz).  
Perhaps the most unusual connection came when I was looking over some of the old concert programs and noticed the last name of the former owner of the house my wife and I had recently purchased. The owner's daughter had played with the orchestra! When I told my neighbor, he decided to pay for two of the digital transfers, presenting the recordings to the former owner. This was no coincidence, though. Rather, it was simply more evidence of  how the legacy of Fritz and Marianne Wallenberg continues to reach into nearly every corner of our community. 
On Wednesday, January 26, the Binghamton Philharmonic and AudioClassics will present the best of these historic recordings at a benefit at the Kilmer Mansion, 9 Riverside Drive. Tickets are $10-$20 and include a reception.