Christopher Bill 
Christopher is best known as the most subscribed brass musician on YouTube. He's a trombonist, arranger, and marketing consultant based outside of NYC. 
Christopher's YouTube Channel of all-trombone arrangements of popular songs has been gaining popularity since the spring of 2014 when a cover of Pharrell Williams' "Happy" where Christopher uses a looping station to compose the song on the spot went viral. His videos have since amassed over 45 million views and a following of over 250,000 subscribers. In February of 2017, Christopher independently released an original pop album called Half Man, Half Machine which mixes acoustic sounds with electronic instruments. He is the Youth Workshop Director of the International Trombone Festival and a marketing consultant for the International Trombone Association. In 2018, his collaboration with the International Trombone Festival of Bohemian Rhapsody went viral. 

Melissa Gardiner 
Trombonist Melissa Gardiner has been described by Curtis Fuller as technically creative and emotionally powerful. Her improvisation is inspiring and motivating for the listener, and she draws you in with a raw expression that directly relates to life experience. 
Throughout her career she has worked with several notable musicians including Aretha Franklin, The Tempatations, Geri Allen, Wycliffe Gordon, Steve Turre, Gerald Wilson, Patti Austin, Tia Fuller, Ingrid Jensen, Arturo O'Farrill and the Afro Latin Jazz Orchestra, and Vulfpeck, who she will be joining next when they headline at Madison Square Garden in September 2019. 
As a bandleader, she performs regularly with her SAMMY Award winning New Orleans style Brass Band, Second Line Syracuse, and her jazz organ trio, MG3, which won the Grand Prize at the 2018 International Jazz Competition in Bucharest, ROMANIA. Joined by special guests Tia Fuller, Ingrid Jensen, and Weedie Braimah, Gardiner is set to release her second album, EMPOWERED, on June 21, 2019.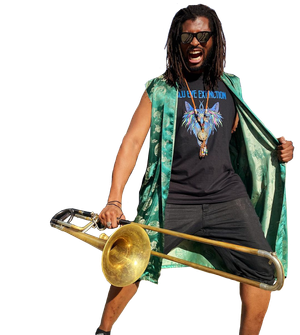 TJ Robinson 
Timothy James Robinson (T. J.) was born and raised in Charleston, SC and began playing the trombone at age 8. He attended the Charleston School of the Arts for middle and high school which strengthened his passion to continue to pursue music professionally. He then moved to New York City to study classical trombone at the prestigious Manhattan School of Music and also abroad at the Royal College of Music in London.
He is now an active freelance musician in New York City. In addition to many classical ensembles he has played with various groups such as the Artie Shaw Band, the Grammy-nominated Manhattan School of Music Afro-Cuban Jazz Orchestra, the acclaimed reggae group Burning Spear, the Revive Big Band, and tours around the world with the group Circular Time. T. J. was also an active member of the PitchBlak Brass Band where he composed, arranged, rapped, and played trombone. He has played at venues such as Carnegie Hall, The Hollywood Bowl, The Blue Note Jazz Club, Dizzy's Coca-Cola Club at Jazz at Lincoln Center, Merkin Hall at Kaufman Center, the Kennedy Center in Washington D. C, and the Galliard Center in Charleston, SC.

Dan Levine
Brooklyn-born Dan Levine grew up in a very musical family and lives in New York City. He plays Trombone, Bass Trombone, Euphonium, and Tuba in studios and stages throughout the US and the world. He's a student of Charles Levine, Donald Yaxley, Buddy Baker, Roy Main, and Ralph Sauer of the Los Angeles Philharmonic. Shortly after graduating from the University Of Northern Colorado, he headed off for a world tour as lead trombonist for the great Ray Charles. 
Upon returning to New York, he's played everywhere from CBGB to Carnegie Hall, and recorded, performed with, or toured with artists as diverse as They Might Be Giants, Miss Velvet And The Blue Wolf, Bruce Springsteen, Blood Sweat and Tears, Frank Sinatra, Southside Johnny and The Asbury Jukes, Rusty Truck, Jay-Z, Toshiko Akiyoshi, The Manhattan Chamber Orchestra, Liza Minnelli, Linda Eder, David Byrne, Rufus Wainwright, Jonathan Coulton, Phillip Glass, Natalie Cole, Bjork, Natalie Merchant, and Tori Amos. Dan's numerous TV and radio appearances include performing on: Late Night with Conan O'Brien, David Letterman, Jimmy Fallon, Brave New World, The Tonight Show With Jay Leno, Good Morning America,The Today Show, Live With Regis and Kelly, The View, Rosie O'Donnell,The Daily Show, The Larry Sanders Show, The Essence Awards, ESPN Nascar Awards, Craig Kilborn,Studio 360, WNYC's New Sounds, Prairie Home Companion, and This American Life.
Catch Christopher Bill and his ensemble Saturday, April 2, 2022 at the Holiday Inn, Downtown Binghamton at 7:30pm!  Click here to buy tickets!