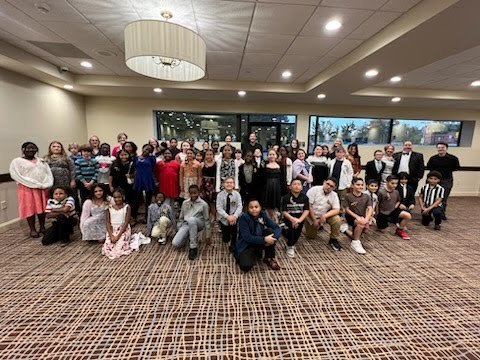 On September 30, 2023, 60 students from Binghamton City School District's seven elementary schools attended Ties and Tutus, and were guests of the Philharmonic for our opening night concert, "Beethoven's Fifth." The students and their building music teachers (all looking very spiffy) enjoyed a pasta dinner at the DoubleTree Hotel, followed by a chat with Maestro Daniel Hege and guest cello soloist Annie Jacobs-Perkins, before taking their seats at the Forum Theatre for a night that none of them would forget.
Many patrons expressed delight at seeing so many young faces in the hall, and the children were a wonderfully appreciative audience, leaping to their feet at the end of Elgar's Cello Concerto and Beethoven's Sympony no. 5. As one fifth-grader said during intermission, "I can't wait to hear the Beethoven. Classical music makes me feel alive!"
We totally agree. We loved having these young music lovers and can't wait to do it again! For more photos from this memorable evening, go here.