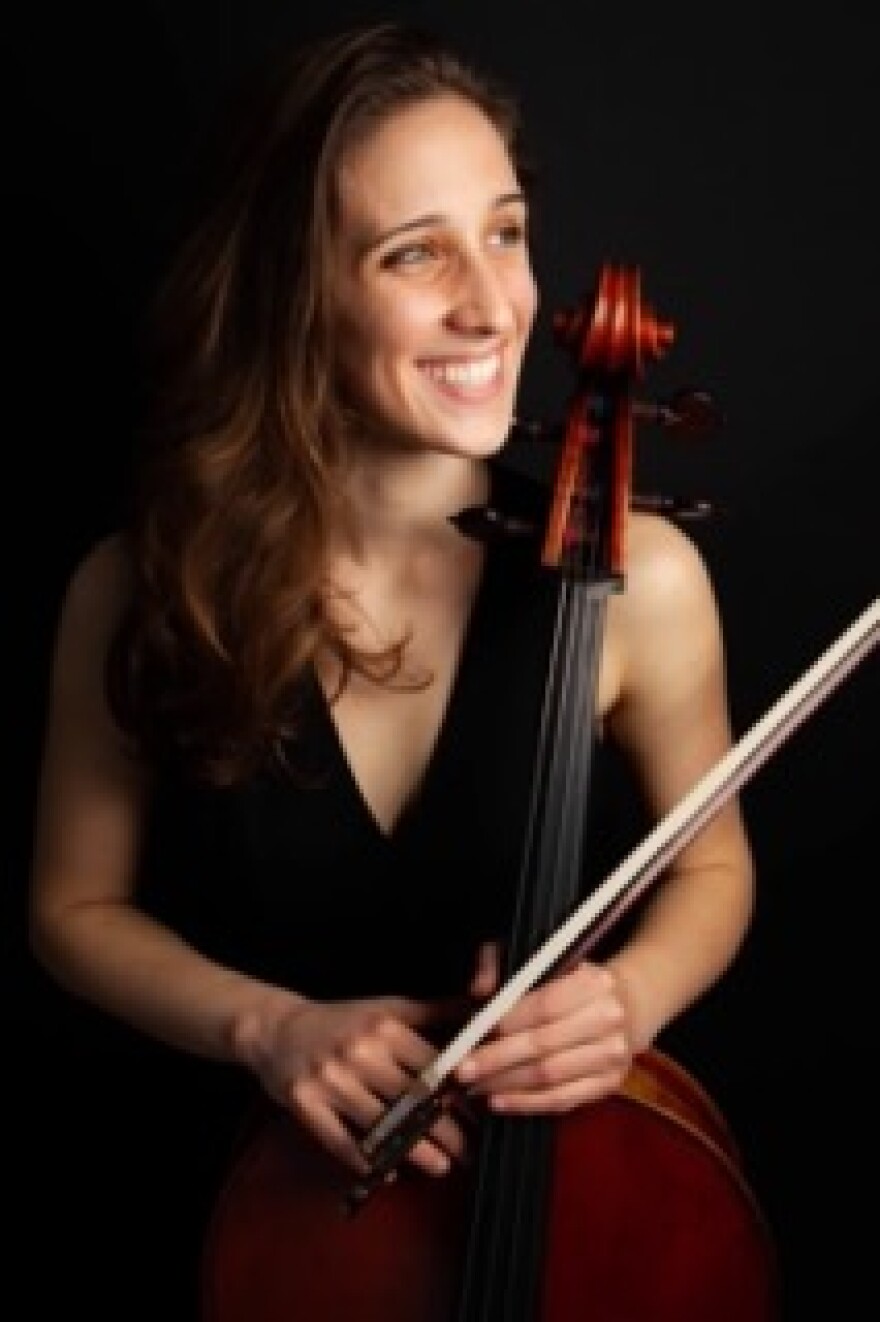 Our opening night concert on September 30 is right around the corner, and we are thrilled to be presenting rising star Annie Jacobs-Perkins (left) as our soloist in the Cello Concerto in E minor by Sir Edward Elgar.
You may already be familiar with Elgar's deeply moving piece from the film Tár, or you may know it from the iconic recording made by English cellist Jacqueline du Pré with the London Symphony Orchestra in 1965 at the age of 20. 
But Annie Jacobs-Perkins, praised by Alex Ross in The New Yorker for her "hypnotic lyricism, causing listeners to forget where they were for a moment," makes this towering work her own. And we are so excited to be a part of her journey.
Annie, a native of Rochester, New York, appeared on the nationally-syndicated NPR program From the Top at the age of 16. She regularly performs at such venues such as Amsterdam's Concertgebouw, London's Wigmore Hall, Carnegie Hall, and the Marlboro Music Festival, and is the winner of the Pierre Fournier Award, the Chamber Orchestra of the Springs Emerging Soloist Competition, and the Father Merlet Award from the Pro Musicis Foundation, among many others.
But Annie's endeavors go far beyond the walls of the concert hall and practice studio; she sees music as just one of the many ways she "digs her toes into the earth around her." She has worked with painters, poets, dancers, and fashion designers on collaborative performances; is a passionate participant in local, sustainable agriculture; and is in the midst of creating a series of watercolor drawings to commemorate her travels around the globe with her cello.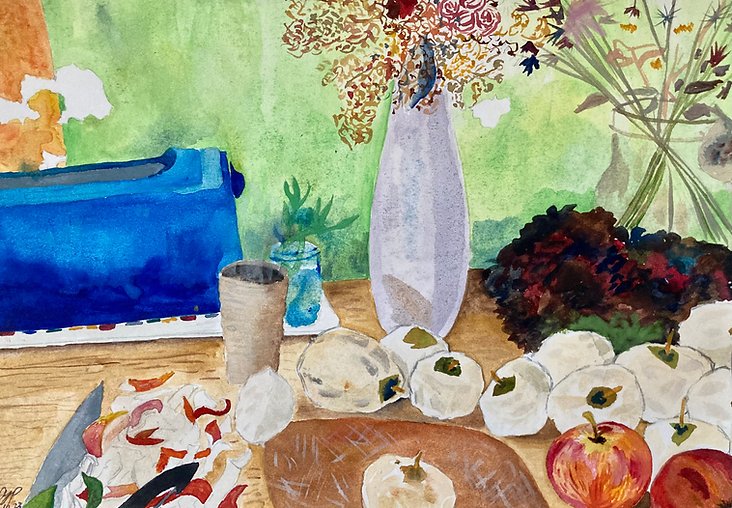 Annie Jacobs-Perkins, Still Life in Leipzig, 2022
This multifaceted young artist, delighting audiences all over the world with her vitality and creativity, embodies the spirit of the Binghamton Philharmonic Orchestra. Along with Annie, we strive to "erase all kinds of boundaries" between our audiences and musicians, remove all barriers to the enjoyment of the great music of the classical tradition, and partner with creatives in our own community.
Come to the Philharmonic on September 30, 2023 to witness the dynamic Annie Jacobs-Perkins, with our orchestra led by Maestro Daniel Hege, make the great Elgar cello concerto her own. We can't wait to see you there!
Concert Week Itinerary:
September 28 at 2pm:

Lecture-demonstration with Annie Jacobs-Perkins and Dr. Julia Grella O'Connell, "Nostalgia, Loss, and the Great War in Elgar's Cello Concerto

,"

Kilmer Mansion, 9 Riverside Drive, Binghamton

September 28, 6:30-7:30pm:

Family Symphony Session: Shaker Songs

, Forum Theatre, 236 Washington Street, Binghamton

September 30, 5pm: Beethoven's Fifth Pre-Concert Dinner, DoubleTree by Hilton, 225 Water Street, Binghamton (Call 607-722-7575 ext. 1610 and ask for Patty to make a reservation)

September 30, 6:30pm, Pre-Concert Chat: What Makes it Folk? What Makes it Classical? with Dr. Julia Grella O'Connell, Forum Theatre, 236 Washington Street, Binghamton

September 30, 7:30pm,

Opening Night Concert: Beethoven's Fifth

, Forum Theatre, 236 Washington Street, Binghamton