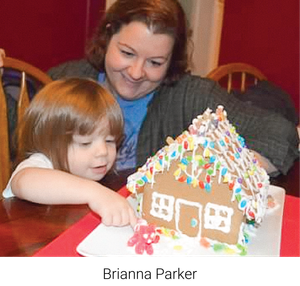 Brianna Parker has generously shared her thoughts on the benefits of being a new Binghamton Philharmonic subscriber.
What do you like about subscribing to the Binghamton Philharmonic?
I love classical music. Throughout my youth, I either participated in my high school's concert and marching bands or, in college, was able to take in shows at my college and the neighboring universities. As I got older, the opportunities for attending live orchestra shows lessened, or at least the convenience of attending those shows declined. I'm happy to have found a way back into the orchestral world. I like subscribing to the Binghamton Philharmonic because I know that I have tickets to each event already secured and I have the dates for those shows entered into my calendar as firm commitments.
What are some of your concertgoing traditions?
As a new subscriber, I don't have any traditions yet, but I'm looking forward to establishing some! I imagine having the whole family accompany me to the Winter-time show will become a regular tradition.
Our subscribers enjoy some "deep benefits" with and for the Philharmonic. Please share any thoughts you might have on how you enjoy "deep benefits."
I don't know as much about the deep benefits of the Philharmonic as long-time subscribers do, but I do appreciate how much effort the Binghamton Philharmonic puts into making music more accessible to people of all ages and demographics. The first time I heard Dvorak's Symphony No. 9, I was playing it in elementary school as part of the percussion section. At our concert, with all our friends and family in the audience and after weeks of practice, we played it through and something in my brain shifted, or clicked, and I knew I would always love the richness and enveloping feel of this kind of music performed live. I want my child and all children to have the opportunity to experience the same thing, to have the chance to truly be moved by music. So that's how I think the Binghamton Philharmonic benefits the community and the people in it: by being available, always performing, and waiting for the people to come and listen and fall in love with the music.
---
"I have to say that a huge part of the reason I chose to become a subscriber this year instead of only buying tickets to one or two shows is the amazing lineup of performances." - Brianna Parker
---
As a subscriber, you have probably found your own way to manage COVID. Please share your thoughts on concert health and safety--and how prospective patrons could be encouraged to attend concerts in spite of lingering COVID concerns.
COVID is going to be around, and we're going to continue to adapt. Vaccinations and boosters as they come out are probably the best defenses we have, along with the same common-sense strategies we use with colds and flus, like regular hand-washing and following proper cough and sneeze etiquette. I hope the use of masks when one is sick or vulnerable becomes a normal part of our culture, since it's a pretty simple way to protect ourselves and our fellow humans. At this point, I think we can start coming out of our forts and reintegrate with a more conscientious world. The ticket exchange feature helped alleviate some of my COVID concerns, as well, because I can hope that if I or any other subscriber becomes ill with a contagious disease, we would utilize the ticket exchange and opt to stay home instead.
Please add any additional comments here.
I have to say that a huge part of the reason I chose to become a subscriber this year instead of only buying tickets to one or two shows is the amazing lineup of performances. It was impossible to choose a couple of shows, and I cannot say enough how excited I am to hear the pieces that were selected, especially those chosen for Green Places. The Lark Ascending is an absolute favorite and I immediately knew I had to buy tickets when I saw it listed. Knowing I'd easily enjoy eight shows, I was glad to take the discount that came with subscribing.
This year, we are offering our subscribers a free "ticket exchange." Is this something you would use (instead of donating tickets)? If so, please tell us how this might have influenced your subscription purchase.
The ticket exchange feature is one of the reasons I decided to become a subscriber. Setting dates in stone months in advance can seem daunting, especially with a family that has an ever-changing schedule. Having the option to exchange tickets if needed is a nice little safety net, should an emergency arise.