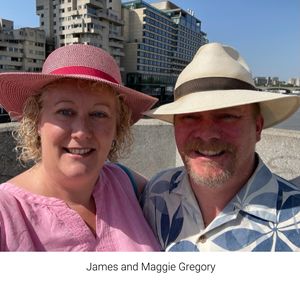 James and Maggie Gregory have generously shared their thoughts on the benefits of being a new Binghamton Philharmonic subscriber.
What do you like about subscribing to the Binghamton Philharmonic?  
We moved to Binghamton in January 2022 and almost immediately attended a "listening" at the Wallenberg Festival Fundraiser at the Kilmer Mansion. It was like coming home; such a clear affirmation that we had made the right choice to move to Binghamton. We were lucky to attend the rest of the spring season shows, and becoming subscribers now that we will be here for the full season just made sense.
What are some of your concertgoing traditions?
We love to go with friends and have invited friends and family to join us. We love to go out to eat first, but when that's not possible we don't suffer by ordering Paul & Sons pizza to eat at home before the show!
Our subscribers enjoy some "deep benefits" with and for the Philharmonic. Please share any thoughts you might have on how you enjoy "deep benefits."
We don't know yet what the "deep benefits" will be, but we agreed after a wonderful introduction to the Binghamton Philharmonic that we want to do all we can to encourage and sustain such an important cultural piece of the greater Binghamton community. We are proud and enthusiastic supporters of the arts, and this is such a special and rewarding way to affirm that commitment.
---
"It was like coming home; such a clear affirmation that we had made the right choice to move to Binghamton." - James and Maggie Gregory
---
Have you ever donated your tickets back to the Philharmonic?
Not yet, but invariably life will happen, and we will happily give back.
As a subscriber, you have probably found your own way to manage COVID. Please share your thoughts on concert health and safety--and how prospective patrons could be encouraged to attend concerts in spite of lingering COVID concerns.  
Not to be trite, but life is short. And the ongoing restrictions as we navigated a pandemic made us realize that music and the arts are a huge part of what makes life so beautiful. We are fully vaxxed and boosted, and we mask if/as appropriate according to community transmission rates. Music is transcendent; even masked and distanced in a theater, it is hard to feel isolated and alone when the orchestra begins to play. 
This year, we are offering our subscribers a free "ticket exchange." Is this something you would use?
This was a deciding factor in our choice to commit to a full season; the ability to exchange tickets if we realize there is a performance we cannot attend made it feel like an obvious choice to commit to the intention to attend every performance.
Do you have any final comments?   
Thank you for all you do! We are so very lucky to be part of this community.