By Dr. Paul Cienniwa, Executive Director
One great thing about live performance is the unpredictable inspiration that makes for an unforgettable concert. That unpredictability sometimes results in the most unpredictable–such as when percussionist Sam Lazzara's cymbal fell to the floor during a touching moment of Saturday's Rachmaninoff Concerto. The cymbals are held with straps attached by a special knot, and that knot slipped through the cymbal. Sam mused that the nylon cord might have shrunk with the hot stage lights, but the strap did not break in any conventional way. 
Sam wrote that his "colleagues were predictably supportive last night following my sabotage of the stunning Rachmaninoff performance," and he shared, in good humor, the following comments: 
Principal French horn Alex Shuhan: "It could have been worse. The cymbal could have rolled across the stage." 
Maestro Hege: "Why'd you leave the stage ? I wanted to give you a bow!" 
Violist Marisa Crabb: "I played every note of Rachmaninoff, following your cymbal malfunction, with passion." 
Sam concluded by writing, "I assure you, my forwarding those comments is a form of therapy for me. In all of my years playing gigs...never before has....well, you get the message." 
You can hear Sam next season as the soloist in Leroy Anderson's The Typewriter during "Pops at the Forum" on Saturday, March 25, 2023 at 3pm. And who knows what might happen?! 
Click here to get your subscription tickets now!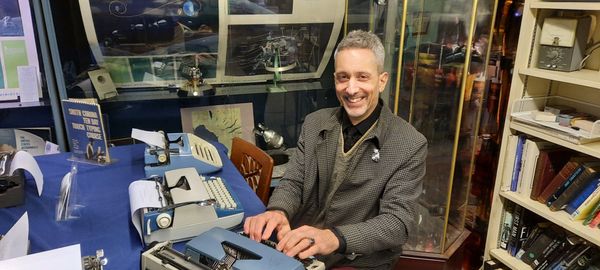 Sam Lazzara trying out typewriters at TechWorks!