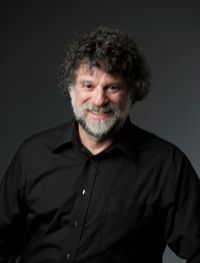 A Letter From Peter:
Playing contrabassoon and third bassoon with the Binghamton Philharmonic Orchestra has been of the great joys of my musical life.
I studied with Boston Symphony contrabassoonist Dick Plaster, who graciously gave me free lessons at the New England Conservatory of Music. He warned me that once you are known as a contra player, you will always be called THE contra player. And he was right. I've played contra with the Binghamton Philharmonic Orchestra for somewhere between 37 and 43 years and have performed with virtually every regional orchestra in Central New York.
Contrabassoonists often double on third bassoon, juggling two bulky instruments and distinctly different reeds within the same piece. Then there are the long stretches within a piece when we do not play.  We sometimes must count over eighty measures of rest (you run out of fingers that help to keep track) before we must enter playing pianissimo on a very low note with a reed that may have dried out under the stage lights while we were busy counting. These moments can be terrifying!
 Contrabassoons are part of the woodwind section, but much of the time we play with the trombones or string basses to add additional heft and power to the thunderous low notes that can literally shake the floor. Other players often congratulate me on how they "feel" my fortissimos. At other times we play delightfully delicate passages with our fellow bassoonists or other woodwinds.  We need to blend, stay in tune and not overpower anyone, no easy feat when blowing on an 18-foot-long wooden pipe.
Over time however, the physics of aging is pushing me to limit my musical activities, so I am focusing on newly emerging musical opportunities: composing concert, jazz and electroacoustic music (which I taught at the Ithaca College School of Music for forty years), conducting the Ageless Jazz Band and playing jazz saxophone, my other love.  Who knows? You may see me in the sax section of the Binghamton Philharmonic at pops concerts, or perhaps I'll write a piece for the orchestra.
The Binghamton Philharmonic is sounding better than they ever have before and I am happy to leave on a high note…a relative thing for a contrabassoonist.
Congratulations to Peter on his well-earned retirement, and we are grateful for his years of dedicated service.