Equity, Diversity, and Inclusion
The Binghamton Philharmonic strives to find opportunities for Equity, Diversity, and Inclusion in its programming, board/staff, orchestral roster, and community engagement. The Philharmonic has taken the following steps to meet these goals: 
Programming 
The Philharmonic is committed to presenting works of underrepresented composers. Recent and upcoming orchestral performances include works by Valerie Coleman, Samuel Coleridge-Taylor,  Vivian Fung, Adolphus Hailstork, Quinn Mason, Jessie Montgomery, and Arturo Márquez Navarro. Special projects, such as the 2021 and 2022 Summer Chamber Music Series, are often organized through a "request for proposals" sent to Philharmonic musicians, specifically seeking "at least one underrepresented composer, e.g. BIPOC (Black/Indigenous/People of Color), LGBTQ+, or female composers." 
Board/Staff 
In 2020, the Philharmonic Board created an Ad Hoc EDI Committee; in 2021, the EDI Committee became a standing committee of the Board. According to the bylaws: 
The EDI (Equity, Diversity, Inclusion) Committee serves to ensure that the Binghamton Philharmonic meets its mission by truly engaging with the entire community, regardless of age, race, creed, color, national origin, sexual orientation, gender identity or expression, military status, sex, marital status, or disability. In addition, the EDI Committee works to  provide greater equity, diversity, and inclusion among the Binghamton Philharmonic's Board, musicians, and staff. 
In its capacity, the EDI Committee shall: 
identify and address any structural barriers to equity, diversity and inclusion within the Binghamton Philharmonic; 
provide guidance to the Board on the creation, design and implementation of programs, initiatives and training that will help the Binghamton Philharmonic become and remain accessible and welcoming to underrepresented groups;  
advocate for equity, diversity and inclusion in all program activities of the Binghamton Philharmonic; 
monitor and evaluate recruitment and hiring to ensure that equity, diversity and inclusion remain a priority for the Binghamton Philharmonic when adding new members to the Board, hiring staff and musicians, and when offering volunteer opportunities.  
One of the most important functions of the EDI Committee is to review the meeting minutes of other committees in order to assure that the Philharmonic Board is considering its mission through the lens of equity, diversity, and inclusion. 
Click here to read the Philharmonic's 2023-2028 Strategic Plan.
Orchestral Roster 
In 2020, the Binghamton Philharmonic became a member of the National Alliance for Audition Support (NAAS), an arm of the Sphinx Organization. The Philharmonic works with the Alliance toward recruitment of Black and Latinx musicians, whether it be through Sphinx Orchestral Partners Auditions or the NAAS Musician Database.

Through its Collective Bargaining Agreement, Philharmonic auditions are "blind," in which candidate musicians are auditioned behind a screen. While blind auditions exist to eliminate bias, they don't address the pipeline issues that might prevent underrepresented musicians from appearing at auditions. Through its work with NAAS, the Binghamton Philharmonic continues to find ways to make auditions more accessible. In addition, NAAS gives the Binghamton Philharmonic access to Black/Latinx substitute musician lists, and the Philharmonic works regularly with its principal musicians to engage substitute musicians from those communities. 
Community Engagement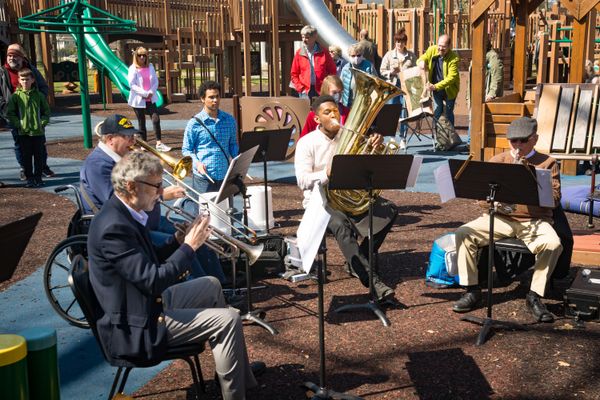 At the Binghamton Philharmonic Orchestra, community engagement and education reach all demographics, from various age groups to different income levels. As we follow our mission of "Building Community Through the Power of Live Music," we work to create cultural understanding through concerts, lectures, technology, in-school performances, and innovative programming.  In addition, we act as both a provider of, and a conduit to, music education. IBM, our Community Engagement and Education Sponsor, partners with us to support the accessibility of live music for the community, while also helping us to develop programs that reach both traditional and non-traditional audiences. 
Some of these programs include: 
Musical Gifts: The Philharmonic provides free concert tickets to underserved members of the community and area nonprofits. 
Ties and Tutus: This annual program brings children to a pre-concert dinner, with an opportunity to meet Maestro Daniel Hege and dress up for the evening's concert (also provided free of charge). Participants are selected by area classroom music teachers and through the Philharmonic's outreach to underprivileged youth. 
MusicLink: Any child who has musical potential deserves the opportunity to nurture this talent to its full extent. Many children lack the chance to receive music lessons due to financial need. The Binghamton Philharmonic works with the MusicLink Foundation to reach out to low-income families by linking these students with professional music teachers willing to reduce their fee to make the lessons more affordable for the child. MusicLink participants also receive free concert tickets for themselves and their families.  
Engaging Our Communities: This program takes three elements of the Philharmonic's educational offerings–Quaver in Every Corner, Meet Our Maestro, and Musical Gifts–and builds lasting relationships with area communities, whether identified by ethnicity, religion, neighborhood, or affinity group. Engaging Our Communities is designed to provide repeat activities that develop community relationships while also developing new audiences for the Philharmonic. 
Sponsored Nonprofits: At each Forum Theatre concert, the Philharmonic provides an opportunity for an area nonprofit to table, give a promotional handout, and speak to the audience. Musical Gifts tickets are provided to nonprofit staff, board members, and constituents.