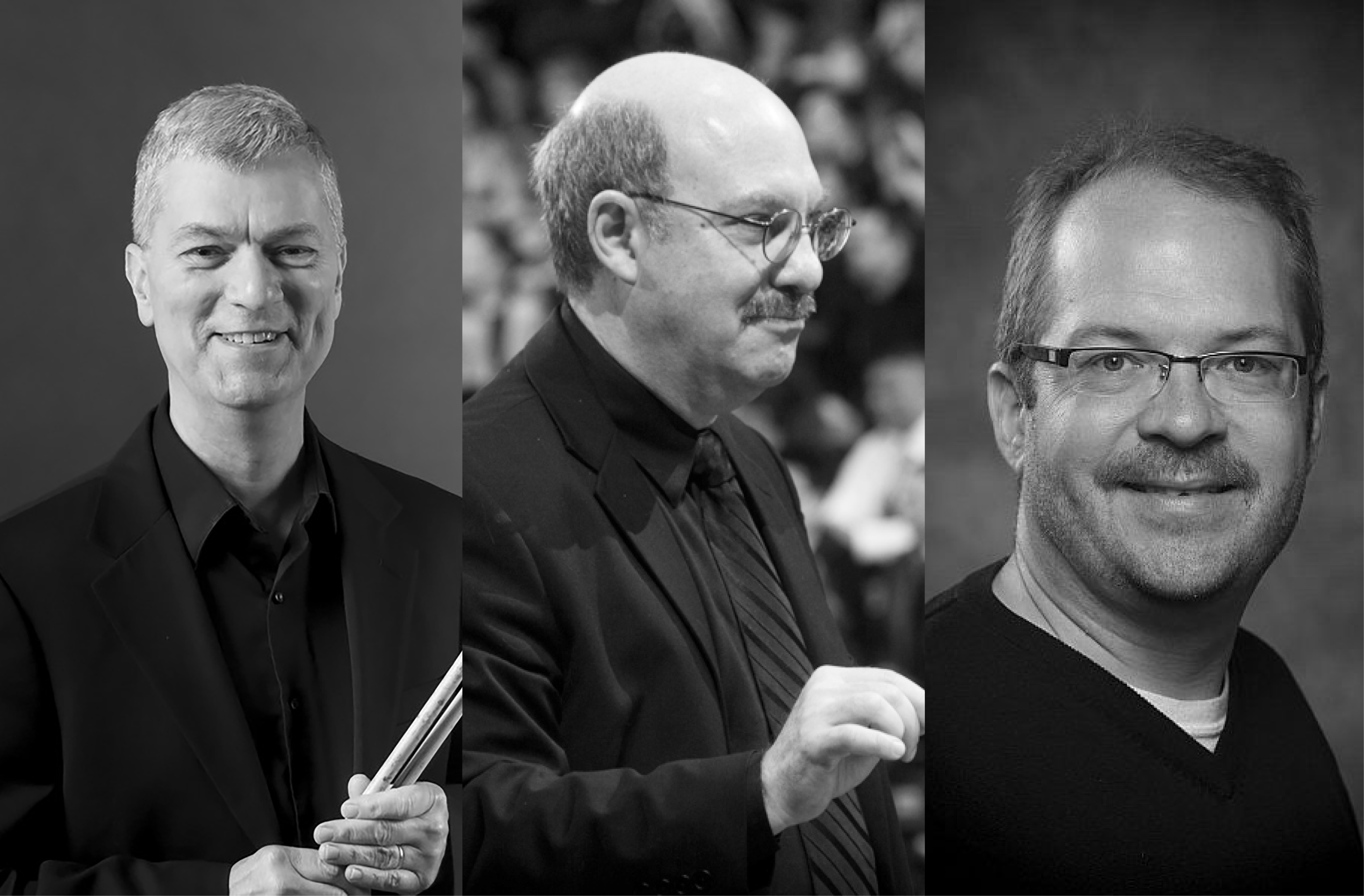 Program
Hands Up (2005) — Josh Gottry (b.1974) 
Ancient Rudimental Drum Solos (c.1776) — Traditional 
    Three Camps 
    Downfall of Paris 
Recuerdos De La Alhambra (Memories of Alhambra) — Francisco Tárrega (1852-1909) arr. Steve Mathiesen 
Variations on a Ghanaian Theme (1981) — Daniel Levitan (b.1953)  
Marimba on the Mexican Streets — Traditional, arr. Terry Baldridge 
    Evanelina  
    Tapachol  
    Aires de Cohatan  
Click Track Trio (2018) — Daniel Fabricius (b.1957) 
Stinkin' Garbage (1997) — Ed Argenziano (b.1958)  
Six Slick Stick Click Licks (2001) — Paul Goldstaub (1947-2014) 
Round and Round (2020) — Joel Smales (b.1967) 
Improvisation # 18,937,118,959.25 (2022) — Binghamton Philharmonic Percussion Trio 
The Last Game (2019) — Daiki Kato (b.1987) 
Xylophonia (1925) — Joe Green (1892-1939)
Joel Smales 
Joel, a teacher who performs and a performer who teaches, is Director of Bands at Binghamton High School's Rod Serling School of Fine Arts and is Director of the Percussion Program at Binghamton University. He holds music degrees from the Crane School of Music (BM) and Binghamton University (MM). 
As a performer, Mr. Smales is active in the upstate NY region where he regularly performs solo percussion, Principal Percussion with the Tri-Cities Opera Orchestra, with the Binghamton Philharmonic Orchestra, eNeRJee Jazz Trio, Caribbean steel band ISLAND HOPPERS and as a freelance drummer/percussionist. He has performed on over thirty professional CD recordings and runs an annual Summer Percussion Camp in Binghamton for area school students. His compositions include solos, ensembles, books and method books published by Kendor, HoneyRock, Drop6, House Panther Press and Phantom Music Publishing. 
His school ensembles have performed for Bands of America in Indianapolis, NYS School Music Association Winter Conference, New York State Band Directors Association Winter Conference, Music Educators National Conference in Minneapolis, Percussive Arts Society International Convention in Nashville, First Night Virginia, First Night International, the World Physics Conference, and numerous Steel Drum Festivals. 
Mr. Smales has presented clinics for MENC, NYSSMA, NYSBDA and the NJMEA and his articles on music and percussion have appeared in Percussive Notes, School Band and Orchestra, School Music News, The Instrumentalist, Vermont Music Educator and Band World magazines. 
Smales has served as the Percussion Chair for the New York State School Music Association and V.P. for the NYS Percussive Arts Society and currently serves NYSSMA as a Percussion adjudicator and is the Snare Drum and Mallet Percussion editor for the NYSSMA Manual. Joel and his wife Athena have 4 children and live in Kirkwood, NY. 
Daniel Fabricius 
Daniel is highly regarded in the region as a percussionist, conductor, and music educator. He has been a member of the Binghamton Philharmonic since 1982. He is now retired from his position as Director of Bands at Owego Free Academy where he developed one of the finest instrumental music programs in the state. He is still currently teaching at Binghamton University, where after twenty years in the percussion studio he was appointed conductor of the University Wind Symphony in 2012. He is also an adjunct professor at Ithaca College, where he instructs and supervises music education students. Throughout his professional life he has served the New York State School Music Association in many roles, among them, All-State adjudicator, Major Organization Adjudicator, and All-State Jazz Ensemble Chairperson. He is currently serving on the Adjudication Festival Committee as NYSSMA Jazz Coordinator. 
As a freelance percussionist he has played in many regional ensembles and has also accompanied national touring artists such as Michael W. Smith, Tommy Tune, Jerry Vail, Lorrie Morgan, Ringling Brothers Circus, the Smothers Brothers, and Ella Fitzgerald. In addition to a full schedule as a performer and teacher he has presented many clinics at music conventions and conferences and often serves as a guest conductor at festivals for student musicians.       
Steven Mathiesen 
Steven has been the principal timpanist of the Binghamton Philharmonic since 1996 and performed in the percussion section from time to time prior to that date. In January 2002, he was a featured soloist with the Philharmonic, performing Harmonic Rhythm, a timpani concerto composed by Russell Peck and jointly commissioned by the Binghamton Philharmonic and 38 other orchestras. 
Mr. Mathiesen is also a member of the percussion section of the Northeastern Pennsylvania Philharmonic and is principal timpanist with the Pennsylvania Sinfonia Orchestra in Allentown, Pa. He has also performed with the Bethlehem Bach Festival Orchestra, Cayuga Chamber Orchestra, Lehigh Valley Chamber Orchestra, Allentown Symphony and Reading Symphony. He has accompanied many professional entertainers in their appearances at area venues. 
Mathiesen has appeared on recordings with the Bach Choir of Bethlehem, the Pennsylvania Sinfonia Orchestra and the Mainstreet Brass, as well as numerous studio recordings for Shawnee Press and Alfred Publishing. He played timpani in Don't Be a Carbon Sasquatch, a part of the recently released Disney DVD Schoolhouse Rock: Earth. His compositions and arrangements are published by Shawnee Press, Honeyrock Publications, C-Alan Publications and Permus Publications. 
Steven received the Master of Music degree from the Cincinnati College-Conservatory of Music and a Bachelor of Music degree from the Ithaca College School of Music. His principal teachers were William Youhass and Allen Otte. He teaches at Marywood University, Moravian College and Lehigh University. He is a graduate of the East Stroudsburg (Pa.) Area High School and was inducted into the school district's Music Hall of Fame in 2005. He and his family live in the Pocono Mountain region of Pennsylvania
Upcoming Performances For Binghamton Philharmonic Percussion Trio
Preview Performance
Friday, June 17 at 7:00PM
St. Paul's Episcopal Church, 276 Church Street, Montrose, PA
Summer Chamber Music Series
Saturday, June 18 at 7:30PM 
St. Patrick's Church, 9 Leroy St, Binghamton, NY
Encore Performance
Sunday, June 19 at 3:00PM
Bainbridge Town Hall Theatre, 15 N. Main Street, Bainbridge, NY