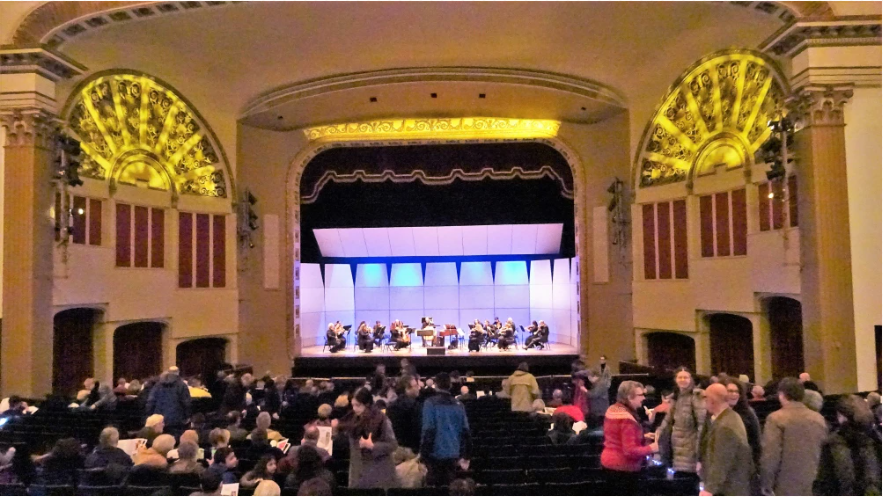 By Jeff Kellam, March 3, 2023
[Forty days in Lent, forty reflections about music, and not all of it in a minor chord – that's what I'm doing here.]
Wouldn't the world be a better place if everyone played nicely together, the way we were taught as children? Most of us anyway.
Playing together, recognizing that we all bring different lives into the sandbox, the playground, the public forum…showing respect and honoring gifts, and finding harmony in our unity. Lord, what a touch of heaven that would be.
Speaking of playing together, harmony, and the Forum…The Binghamton Philharmonic plays its season at the Forum Theatre. (See what I did there?) About sixty professional musicians share their personal musical gifts, always showing respect for the talent and hard work of their peers, unified in their desire to be true to the geniuses who composed the scores they play. We in the audience are sometimes enthralled, often inspired, now and then puzzled, and always appreciative. We reward the musicians with never-enough applause. And we almost always leave the theatre fulfilled.
I could be writing I suppose of any symphony orchestra. But I write today only of our "own." Joan and I live in a village (Owego, NY) of only 4000 residents. (New York's geographic boundaries are tricky: there's also a "Town of Owego" in which the village resides, population around 18,000). About 20 miles to the east is the small city of Binghamton, population about 44,000 and home to a well-respected university of 18,000 students. I mention the size of the community in order to stress how fortunate we are to have a fine symphony orchestra on stage here in our community.
Truth be told, the members of the Binghamton Philharmonic are not all local residents. Many travel from New York City, Syracuse, Rochester, and elsewhere to play here, with several (most?) playing in orchestras in other cities. Our conductor, maestro Daniel Hege, also conducts the Wichita Symphony, and is principle guest conductor of the Tulsa Symphony. None of that lessens this fact: we have a very fine symphony orchestra within a half-hour drive from our home.
We are subscribers to the full season. Masterworks, pops, ye olde warhorses, fresh new works by younger composers…and guest artists of the highest caliber grace the Forum stage. I know; I sound like I'm writing for the PR office. But after each concert I remain so enthused that we can enjoy live music by gifted women and men who love their art. Whether playing Beethoven or Star Wars, Gershwin or Grieg, their instruments blend and their commitment to their craft resurrects the classics and premiers the latest concerto.
This is not everyone's cup of tea, so to speak. Not every seat is occupied in the theatre. I'm guessing that the vast majority of locals have never heard so many people playing so nicely together. They've not experienced the harmonies, the wonders, the resounding almost miraculous blend of horns and strings and percussion. They've never heard music that has survived for centuries and not just twelve weeks on the pop charts. That may be the primary reason the Binghamton Philharmonic lets any kid under the age of 17 into concerts for free. Joan and I have smiled broadly to see so many young people now filling seats along with all us gray-haired fans of such music. Yes, now and then the repertoire of the occasion is centered on John Williams' film scores or, as was the case a couple of years ago, symphonic soundtracks to videogames (hey, it was way better than I had expected!), but if it exposes a young audience to a full philharmonic orchestra, so be it. And the more often, the better.
No matter the genre, there is good music everywhere. And great music in fewer places. But seeking it out, supporting it with our ticket purchases, sharing the experience with friends, spreading the word, and even making a financial gift of support will keep great music alive and fine musicians in good, um fiddle. (Sorry.)
What's this got to do with Lent? Hey, I gave up an hour to write about harmony, joy, and a bit of heaven. There's that.