Over the past four months, the Philharmonic held auditions for viola, oboe, English horn, and violin. Auditions are "blind," meaning that the panel of judges, made up of Maestro Hege and Philharmonic musicians, can see neither the auditioning musicians nor their resumes.
We are happy to announce the names of our new musicians: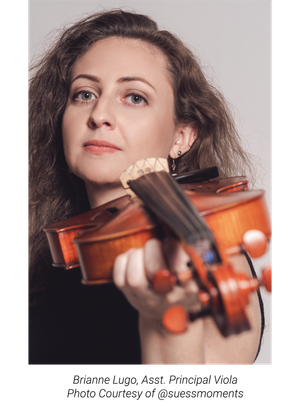 Brianne Lugo, Assistant Principal Viola 
Brianne Lugo is a violist and violinist in New York City, as well as a violist with the Southwest Florida Symphony Orchestra (Ft Myers, FL) and Punta Gorda Symphony. Most recently, she has joined The Binghamton Philharmonic Orchestra as the Assistant Principal Viola. A New York native with mixed heritage, NYC has been her home since 2016 after spending a decade in Midwest cities. After receiving her BFA at Carnegie Mellon University and MM from the Cleveland Institute of Music, she spent three years in Chicago with the Civic Orchestra of Chicago. As a violist, she has performed in symphonic and operatic settings throughout her career, as well as both on and off-Broadway musical theater productions. This career also includes performances on Saturday Night Live (Chance the Rapper), The Tonight Show starring Jimmy Fallon (SZA), to Lincoln Center Out of Doors concert series, to various outdoor stages throughout the entire city, to Rockwood Music Hall, to Alice Tully Hall, to Carnegie Hall. Typically, she can be found traversing the NYC region with her viola, and, most likely, a bagel. She has thoroughly enjoyed genre-hopping and performing various styles of music throughout the Tri State area and down on the Gulf coast. During the pandemic shut down, Brianne jumped into learning about at-home recording as well as providing her time and efforts in the social justice scene around NYC while advocating for the performance of lesser-known BIPOC composers. You can find more information about Brianne at http://briannelugo.com/ and on Instagram @brilugovla. Current member of AFM and Local 802.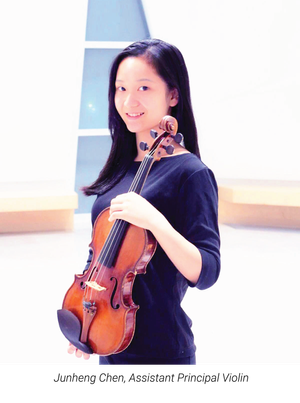 Junheng Chen, Assistant Principal Violin II
Violinist Junheng Chen has been performed as solo and chamber artist throughout Asia, Europe, and America, including prestigious venues such as Weill Recital Hall at the Carnegie Halls, Kodak Hall, Kilbourn Recital Hall, etc. She has served as the concertmaster of the Music Festival School Orchestra and performed at the Chautauqua Amphitheater in 2018. Junheng is also the winner of multiple national and international music competitions, including South Florida Young Artist Competition (U.S.A., 2016), Zodiac Chamber Music Competition (France, 2016), Golden Classical Music Award (U.S.A., 2020), and Medici International Music Competition (2021). Junheng earned her Bachelor's degree in 2017 at the Lynn University Conservatory of music under the tutelage of Guillermo Figueroa and her Master's degree in 2019 at the Eastman School of Music under the tutelage of Mikhail Kopelman. She is now pursuing her Doctoral degree with Professor Kopelman at the Eastman School of Music. In 2021, she has been nominated for the 2020-21 Teaching Assistant Prize by the Eastman School of Music String Department.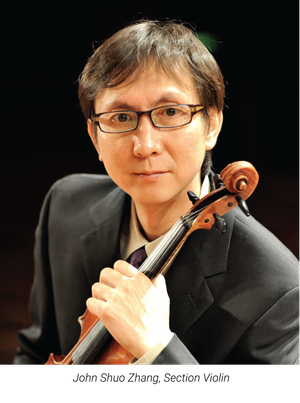 John Shuo Zhang, Section Violin  
John Shuo Zhang, a Graduate with a Master's degree from the Juilliard School was born in Guangzhou, China. He began studies on the violin at age seven and made his first public appearance in a movie about musically gifted children just six months later.  Before arriving in the United States he received his Bachelor's degree with honors from the Xinghai Conservatory of Music.  His musical study in the United States includes Eric Rosenblith, Dorothy DeLay, Hyo Kang, Itzhak Perlman,  Joseph Silverstein,  Yoko Takebe and Michael Gilbert.   Zhang also studied chamber music with Fliex Galimir, the Emerson String Quartet and the Juilliard String Quartet.  As a scholarship student at the Juilliard School, Zhang has participated on a tour performance with the Juilliard Chamber Orchestra and on a Us tour with the New York City Opera.  He has appeared as a soloist with the Brooklyn neighborhood Orchestra given recitals in Lincoln Center, IBM Gallery as part of the IBM Recital Series and NYC International Center.  Zhang has performed with the New York Philharmonic, the New Jersey Symphony,  the Delaware Symphony, the Northeastern Pennsylvania Philharmonic, and the Symphony in C.  As an advocate for contemporary music,  Zhang has premiered several new works in the US. Since 2009, Mr.Zhang has served as the concertmaster of Guiyang symphony. Currently, he holds an assistant concertmaster position in Hangzhou Philharmonic Orchestra.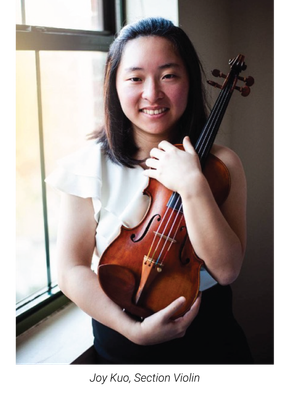 Yi-Ting (Joy) Kuo, Section Violin 
Yi-Ting (Joy) Kuo was born in Taiwan and started playing the violin at age of 8. In 2012, she came to the United States to study at the Walnut Hill School for the Arts with Lynn Chang. She received both her Bachelor and Master of Music degrees at the New England Conservatory studying with James Buswell, Paul Biss, and Soovin Kim. In 2014, she performed on From the Top with her string quartet "Noce," who were semi-finalists at the Fischoff National Chamber Music Competition. From 2014 to 2020, she performed with Boston Philharmonic Youth Orchestra, Boston Philharmonic Orchestra, and the Atlantic Symphony Orchestra. She is currently in The Orchestra Now, enjoying her time at Bard College playing with great musicians everyday. Outside of music, she likes to play basketball, badminton, ride a bike, go into mountains, and enjoy nature.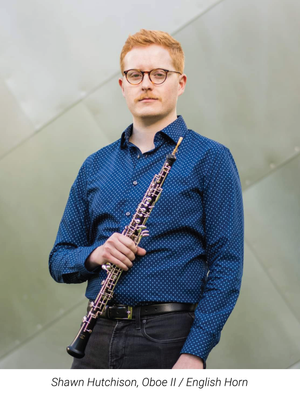 Shawn Hutchison, Oboe II / English Horn
Oboist Shawn Hutchison enjoys a multi-faceted freelance career, performing frequently with ensembles throughout New York. He holds the position of second oboe and English horn with the Binghamton Philharmonic Orchestra, and is principal oboe of the Glens Falls Symphony. He is also an oboe fellow with The Orchestra Now, with whom he has appeared on various recordings and in venues such as Jazz at Lincoln Center, the Metropolitan Museum of Art, and Carnegie Hall. In March 2022, he was a featured soloist with the orchestra in Mozart's Sinfonia Concertante. During the summers of 2018 and 2019 he held the oboe fellowship at the Bowdoin International Music Festival. He is the 2015 recipient of the Marcel J. Dandois Memorial Prize in Oboe, and in 2018 he received the Graduate Music Award from The Presser Foundation. 
He received his training at the University of Cincinnati College-Conservatory of Music and the Yale School of Music, where his principal instructors included Dr. Mark Ostoich, Dwight Parry, Christopher Philpotts, and Stephen Taylor.