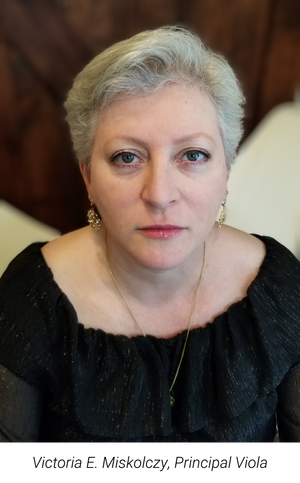 Tells us a little bit about how you joined the Binghamton Philharmonic Orchestra. How long have you played with the Binghamton Philharmonic?
I won the audition for principal viola in November of 2021 and started fully this past fall season of 2022. So, I am quite new to this orchestra and I am in my probationary year. Before I may be given tenure I must pass a review by the end of the season.
What do you like about performing with the Binghamton Philharmonic?
Maestro Hege is a wonderful conductor and I like his varied programming. There's something for every musical taste in every concert.
Share a favorite memory with the Binghamton Philharmonic.
Winning the audition and meeting the audition committee and Daniel Hege afterwards was a big highlight for me. Having gone through many months of pandemic shutdowns along with everyone else, and then having the positive experience of thinking about future concerts with a new set of colleagues was wonderful for my outlook on life. After a long studio career in Los Angeles and playing with the Los Angeles Chamber Orchestra for 33 years, (a position I resigned from very recently) the changes that are growing from all these experiences are life affirming. That there IS life after the shutdowns and the possibility of playing for audiences once more gives my life purpose and joy.
---
"I fell in love with everything about the viola. I was hooked on the sound and the lower pitch, and the size fit me perfectly. I was born for the viola!" -Victoria E. Miskolczy
---
What was your favorite (or one of your favorite) concerts to perform in with the Binghamton Philharmonic and why?
The Christmas concert we just played (December 10th, 2022) was tremendous fun. There were selections from various movie sound tracks with which I was quite familiar, having played on the original soundtracks. Danny Elfman's Nightmare Before Christmas is a favorite of mine.
Tell us the story of how you were first introduced to the instrument you play. What drew you to your instrument?
For me coming to the viola was a sort of Goldilocks moment. I started on cello when I was 3 years old (yes, a 1/16th size cello!) and played it for 6 years. I switched to violin when I was 9 because I was getting bored with the cello. At the time I was studying with the well known Australian violist who played with the Sydney String Quartet (Alex Todicescu), who also taught violin. He said when he saw how tall and athletic I was quickly becoming at the age of 13, that I should consider playing the viola. He sent me home with a borrowed viola and told me to learn a J. S. Bach, solo 'cello suite, and I fell in love with everything about the viola. I was hooked on the sound and the lower pitch, and the size fit me perfectly. I was born for the viola!
Who is your favorite composer and why?
My favorite composer is whoever's music I am currently playing! How can one choose... I love great music, and there is a lot of it.