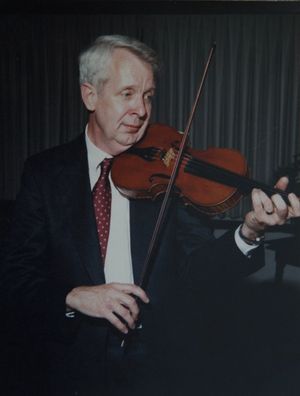 Photo: Ed Pettengill
By Caitlin Khan, Director of Marketing and Publications 
I was fortunate to hear many wonderful stories about Fritz and Marianne (who went by Marianna) from Ed Pettengill, a former musician with the Binghamton Symphony (and, later, Philharmonic) for 48 years, starting in 1954. "Marianna ran the whole thing," recalls Ed.  
Ed has many fond memories of playing Bach cantatas with a crew at the Wallenberg's house. "[Fritz] wanted to do them all over a period of years, and I would play or sing," recollects Ed,"Marianna's refreshments afterwards were to die for." 
One time, Ed remembers, the Wallenbergs put together a string quartet. Marianne played violin, and Fritz played cello. She played A=444 (a bit sharper than concert pitch), and Fritz played A=440 (the current standard for concert pitch). Ed and Fritz Loewenstein tried desperately to adjust their intonation either way on the violin and viola. "We were stuck in the middle," said Ed.    
Ed recounts several humorous instances when sound effects were used during  concerts. "We did Walter Piston's The Incredible Flutist. I did the dog barks," said Ed. "One time we played Pop Goes the Weasel, and Fritz had a cap gun," said Ed. They made a paper mache black bird and attached it to the ceiling. "He fired the cap gun, and the bird would float down, and I would call 'caw caw caw'," recollects Ed. Another time, they were trying to do a popping noise for a champagne effect, but it was too soft. "So I said, why don't we blow up some paper bags and pop them?" recalled Ed. So he went to Dunkin' Donuts, got two plastic bags, and blew them up. "They were much louder than I thought they would be," said Ed, "A little kid in the front started crying and one of the violinists jumped up in her seat." According to Ed, the violinist erupted with a loud shout, and everyone laughed. 
There is a historic recording of Ed Pettingill singing Cole Porter's "Rosaline" with the Binghamton Symphony and Choral Society in our Wallenberg Legacy archives. You can check it out here. 
For more historic recordings of the Binghamton Symphony and Choral Society, I invite you to attend our Wallenberg Fundraiser on Wednesday, January 26, 2022 at 7pm at the Kilmer Mansion, 9 Riverside Drive, brought to you by AudioClassics. Tickets are $10-$20 and include a reception. Click here for more information.